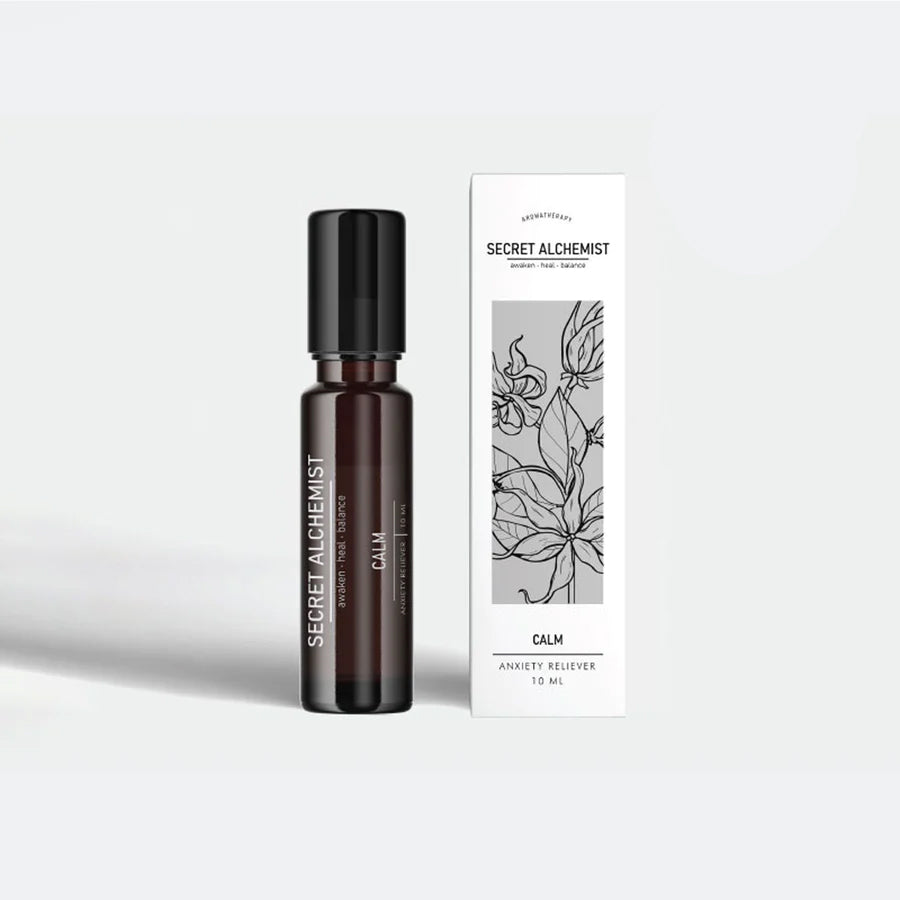 CALM - Anxiety Reliever Oil
Rs. 699.00
Calm is a synergistic concoction of therapeutic oils in secret proportions intended to imbue positive thinking and reduce stress and anxiety. Handcrafted with love, this uplifting blend generates a soothing energy, evokes tranquility, and works to calm the mind and body.
A mother's recipe, a daughter's promise.
Reduces stress
Uplifting
Calms the mind
Relaxes the nerves
Keep this by your bedside table or carry it on-the-go. Roll it on your pulse points and inhale it to calm your senses. Keep a minimum gap of 4 hours between use.
Keep away from children aged 12 years and below.
Do not leave the bottle open to prevent evaporation.
Do not heat the blend.
Even though essential oils are absolutely safe, some people may be allergic to natural products. Test a patch and leave for 30 minutes as a precaution for skin irritation or an allergic reaction.
To preserve the quality of the product, store the bottle in a cool, dry, and dark place.
Avoid the use of essential oils during the pregnancy and nursing stage.
For external use only.
To be used 6 months from opening of the bottle and 12 months from mfd
Basil
Lavender
Rose
Sandalwood
Ylang Ylang
Vitamin E
CALM - Anxiety Reliever Oil
80%
Consumers revealed benefiting from using Calm, reducing the toxic effects of anxiety.
75%
Consumers find it natural therapeutic aroma.
90%
Consumers reported it helped them to produce lower blood pressure and cortisol levels.
Powered by plants, and backed by science.
Essential Talks
Why
Considered a Mental Health Epidemic, approximately 56 million Indians suffer from depression.38 million people suffer from some form of anxiety disorder. This makes India a highly prevalent nation for the same.
When
Your go-to companion for Anxiety, rotate the Calm Roll-On onto your pulse points and inhale it to relax your senses. Maintain a minimum gap of 4 hours between usage.
What to Except?
With 80% of users benefitting from using Calm, this Roll-On helps helps reduce stress, boost mood, calm the mind, and relax frayed nerves. Feel fatigue and anxiety melt away.
Pro Tip*
Use calming breathing exercises and listen to calming music
Notes*
Bio-individuality is a very real concept that we believe in here at Secret Alchemist.. Since no two bodies are made the same, they will react differently to the same product.
No More Anxiety
For someone dealing with Anxiety quite frequently, I must say this is hands down the best product to calm roll on relaxes my mind instantly
worth every penny!
Really helpful
Really helps in alleviating stress and anxiety … has a pleasant, relaxing aroma
My Father uses it everyday now! helped him with his anxiety issues
My father uses it everyday now! helped him with his anxiety issues
Nice product
really nice product,its great to apply it to the wrist and neck and relax into a nice evening
How To Use
Keep this by your bedside table and use it in the 5-10 day period preceding the start of your menses. Apply this on your abdomen daily to alleviate menstrual cramps.
The Best of Nature for a New You
100% Natural
Cruelty Free
Family Owned
Made in India