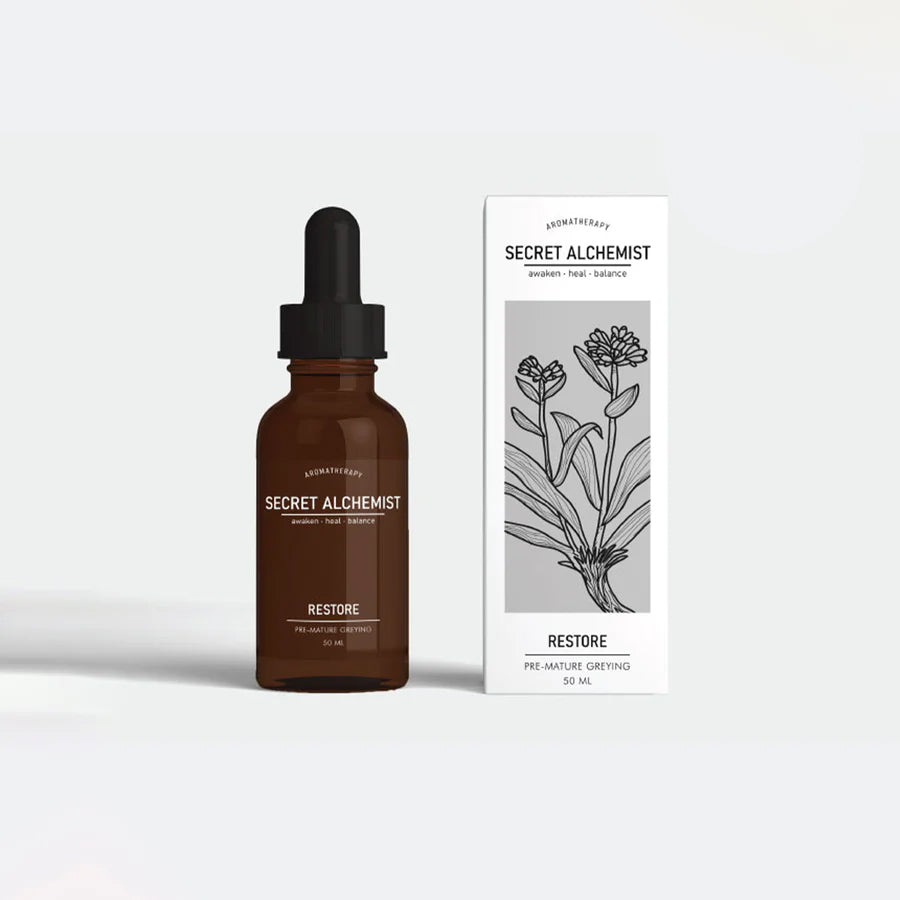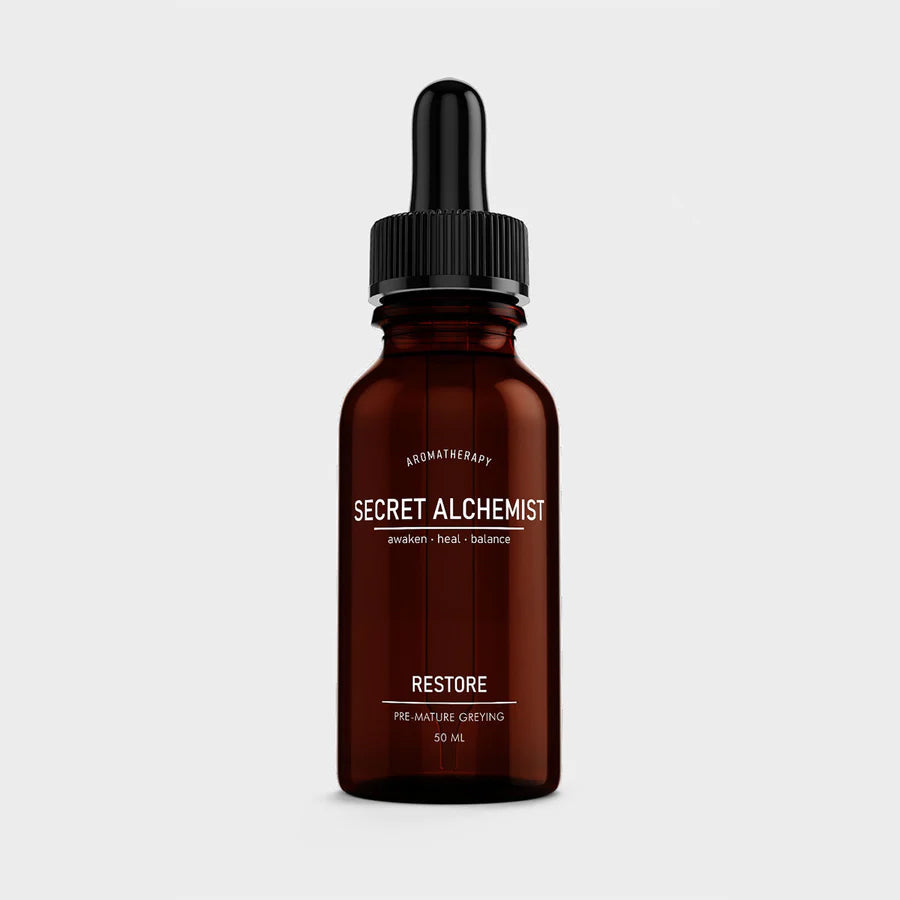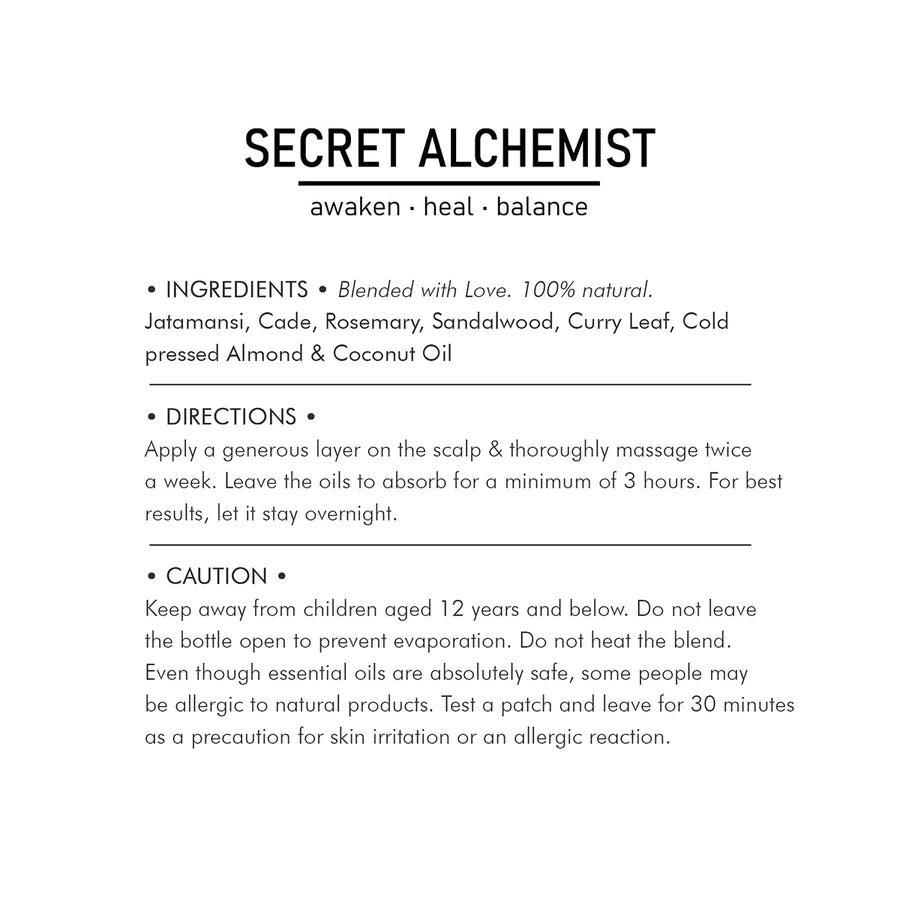 RESTORE
Premature Greying Oil
Rs. 999.00
Restore is a synergistic concoction of therapeutic oils in secret proportions. Handcrafted with love, this powerful blend with Jatamansi and Rosemary amongst others arrests and reverses premature greying while deep conditioning your strands. 
A mother's recipe, a daughter's promise.
Arrests greying of hair
Relaxes the scalp
Nourishes the hair
Boosts circulation to scalp
Apply a generous layer on the scalp and thoroughly massage twice a week. Leave the oils to absorb for a minimum of 3 hours. For best results, let it stay overnight.
Keep away from children aged 12 years and below.
Do not leave the bottle open to prevent evaporation.
Do not heat the blend.
Even though essential oils are absolutely safe, some people may be allergic to natural products. Test a patch and leave for 30 minutes as a precaution for skin irritation or an allergic reaction.
To preserve the quality of the product, store the bottle in a cool, dry, and dark place.
Avoid the use of essential oils during the pregnancy and nursing stage.
For external use only.
To be used 6 months from opening of the bottle and 12 months from mfd
Almond Oil
Coconut Oil
Cade
Curry Leaves
Jatamansi
Rosemary
Sandalwood
RESTORE
80%
Consumers testified to this essential oil's efficacy in arresting their early grey's.
79%
Consumers claimed that their scalp felt relaxed, their hair nourished.
82%
Consumers experienced better hair health due to increased circulation in the scalp.
Powered by plants, and backed by science.
Essential Talks
Why
According to a 2012 study, 14% of people were subject to premature greying of hair; Often interlinked, there are several causes for the same, namely, genetics, autoimmune disease, stress and anxiety, sleep problems, thyroid disorder, Vitamin B deficiency, and smoking amongst others.
When
Gently massage it, and leave the oils to absorb for a minimum of 3 hours to overnight, at least twice a week.
What to Except?
With 80% of users arresting their early grey's, use our Luke-approved, Premature Greying Hair Oil, Restore, and say no to this phenomenon, while relaxing your scalp, nourishing your hair, and boosting circulation
Pro Tip*
Get enough vitamins. Vitamins that keep your hair healthy
Note*
Bio-individuality is a very real concept that we believe in here at Secret Alchemist.Since no two bodies are made the same, they will react differently to the same product.
Amazing
I don't know about the reverse effect of the oil. But it has definitely improved the quality of my hair and has stopped my hair fall as well. Will continue using this product forever. Amazing stuff 👏
How To Use
Keep this by your bedside table and use it in the 5-10 day period preceding the start of your menses. Apply this on your abdomen daily to alleviate menstrual cramps.
The Best of Nature for a New You
100% Natural
Cruelty Free
Family Owned
Made in India